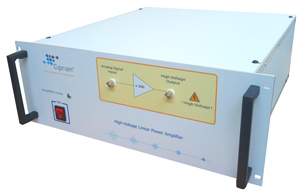 HIGH VOLTAGE POWER AMPLIFIERS
Ciprian's high-voltage power amplifiers are targeted for generating electrical signals up to many hundreds of Volt in amplitude.
These amplifiers can be used for non destructive testing (NDT) applications in acoustics, ultrasonics, piezo actuators, MEMS, as well as for a variety of material processing technologies.
HVA series high voltage power amplifiers
The HVA models are high-voltage amplifiers that provide output levels of up to 800 Vpp and currents of 2 A RMS.
They are suitable for the excitation of piezoelectric transducers, EMATs, MEMs and many other applications. The HVA amplifiers can work with capacitive loads and are able to provide the strong current demanded by these loads when operating at high voltages and high frequencies.
Two different models are available: the HVA-400-A with an output voltage of 400Vpp and the HVA-800-A with 800Vpp.
Main features are:
high voltage and high power output with a single unit
continuous wave operation
very high slew rate
wide bandwidth ranging from 10 kHz to more 2 MHz
stable with capacitive loads
linear amplification with low distortion
four-quadrant operation
over-temperature protection
very attractive price
extended warranty of three years