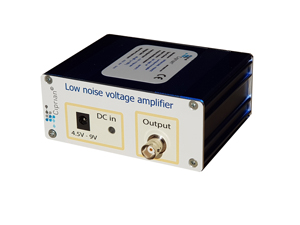 Electronic ultra low noise pre-amplifiers
Ciprian's pre-amplifiers are designed to operate in high-sensitivity applications. They provide a clean conversion of extremely weak signals of the order of μV into levels suitable for analog to digital conversion or any other processing.
Our pre-amplifiers are also useful when working with signals in the milliVolt range: they guarantee the best possible signal-to-noise ratio for measurements made by a scope or a digital acquisition card.
These amplifiers are very well suited for applications in acoustics, ultrasonics, piezo actuators, MEMS, optics and more generally for any applications dealing with signals of small amplitudes.
LNA ultra low-noise pre-amplifiers family
The CIPRIAN LNA series consist of amplifiers with a fixed gain and very low internal noise. Their outputs are protected against over-load and short-circuits while the inputs can be protected against transient high voltages.
The gain is fixed at the factory and can be chosen between 20 dB (x10 in voltage), 40 dB (x100 in voltage), 60 dB (x1000 in voltage) or 80 dB (x10,000 in voltage).
The LNA family is divided into low frequency units (from DC to 800 kHz) and high speed units (from 5 kHz to 20 MHz).
Main advantages
are:
ultra low-noise amplification
high voltage gain
universal range of sources for the power supply
compact and lightweight
very attractive price
extended warranty of three years
Main specifications are:
Ultra low voltage noise : 0.96 nv/sqrt(Hz)
Voltage gains up to 80 dB (x 10,000 amplification)
Low frequency units : DC to 800 kHz
High speed units : 5 kHz to 20 MHz
Powered from USB or battery or main supply
Universal power supply included
Input protection available
Output protection against overload and short-circuit