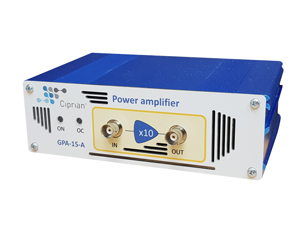 Electronic General Purpose Amplifiers
GPA series of general purpose amplifiers

The CIPRIAN GPA series comprises general purpose amplifiers intended for multiple applications.
Their high bandwidth, low noise and low distortion makes them suitable for amplification of weak signals.
On the other hand, their output ratings and the built-in protections allow the safe excitation of loads and transducers with powers up to 15W.
Ciprian offers two models: GPA-15-A with an output of ±15V and GPA-10-A with ±10V, both delivering an output current of ±1A.
Main features are:
very attractive price
high slew rate
linear amplification with low distortion
very high bandwidth 30 MHz including DC operation
over-temperature, overload and short-circuit protection
extended warranty of three years